After a great deal of work on behalf of all concerned the full planning application was APPROVED by SDC  on 11/06/2019
Planning ref is S.18/2202/FUL –  you can see the full application on the Stroud District website- click here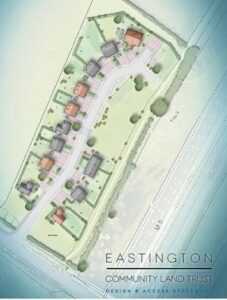 Click the Pic to see the 'Design and Access Statement'.
It gives the full details of the housing and landscaping plans.
This statement also contains some background and description of the factors involved in the development  It shows how our ideas had to continually evolve in order to overcome the constraints of the site – including the existing underground pipes and cables as well as the motorway considerations.
A significant part of the planning application process was formulating the S106  agreement that will ensure that these houses remain as 'affordable houses for rent' in perpetuity and that people with existing strong links to Eastington have priority in all tenancy applications.