Public consultation  July 2021
Final Masterplan and Street Scenes
Trustees approved a Masterplan with Two Rivers HA in July 2021, Quattro's Revision "L" along with the architects impression of the Street Scenes (Revision "B"), to put before the public. These are large files and best viewed as PDFs :-
6255-F-120L Eastington Site Layout
6255-P-800B Street Scenes AA BB CC
Continuous community involvement 2011 – 2021
A series of public surveys, meetings and drop-ins have led to the deployment of ECLT Project Two:
Parish Survey 2011-2012
Parish Plan 2013
Foundation meeting of ECLT October 2013
Housing Needs Survey (HNS) 2013-2014
Neighbourhood Development Plan (NDP) 2014-2016
Registration of ECLT as a Community Benefit Society in 2016
Evolution of plan for 23 homes for affordable rent 2016-2019 (now Fullers Close)
Second HNS 2019, leading to ECLT Project Two for 31 affordable homes, 2019 to present.
Drop-ins at Village Hall July 2021
Community response to all these processes has been extremely positive, for example the NDP was supported by 91% in the referendum, Stroud DC had zero adverse comments for the Fullers Close planning application and ECLT now has over 140 members.
Formal consultation with Eastington Parish Council EPC
In many respects, EPC has been instrumental in evolving the need for and concept of, ECLT from 2010 onwards. Since ECLT became an independent Trust in 2016, the onus has been on the Trust to formally consult EPC just as any significant developer would be expected to do.
EPC provided £6,000 as match funding for Fullers Close and in September 2019, voted unanimously to support Project Two with £8,000 match funding. The latter grants from the Parish Solar Fund levered a £72,000 CHF grant from Homes England.
Direct community involvement
All ECLT meetings are open to public scrutiny and a consultation period of 10 minutes (or longer if appropriate) is allowed at each Board meeting. This has been constrained by Covid-19 whilst meetings have been conducted by Zoom but public meetings in the Village Hall resumed in May 2021.
The key public consultation was via the Eastington Community News in October 2020, delivered to every home in the parish. There were no dissenters neither by e-mail nor within social media. No public meetings were possible in 2020 because of Covid-19.
Having established via the  6th May 2021 election process that public drop-in meetings were possible in the Village Hall, subject to Covid-19 protocols (e.g.), Project Two was displayed in full on 15th and 17th July 2021.
Between the two events, 75 people attended, half of whom booked interviews to do with Shared Ownership (see below). ECLT gained 14 new members, taking the total membership over 140.
There were no adverse comments and 20 supportive comments recorded.
July 2021 Public Drop-ins
These were governed by Covid-19 protocols established by Stroud DC Elections Dept. and included:
Two external doors open with one-way pedestrian flow
a limit of 10 persons at any given time
wearing of masks/ visors compulsory
use of "sneeze screens" for interview desks
Stroud DC supported the event with an expert on Homeseeker Plus on 15th July.
General view of activity on 15th July. Covid-19 elements include masks, social distancing, open doors and less than 10 persons.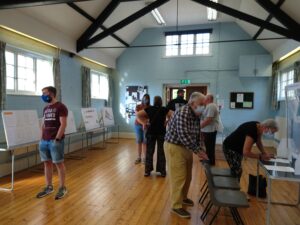 Overall, 75 people "dropped-in"
ECLT was supported by Two Rivers HA, who are our partners in this project, on 17th July. They sent an expert in the new element of Shared Ownership, a speciality of Two Rivers. Publicity focused on this prior to the event:
article in June/July Eastington Community News
social media (Love Eastington Facebook and ECLT website)
e-mails to all members
400 flyers delivered door-to-door
Banner outside Village Hall in advance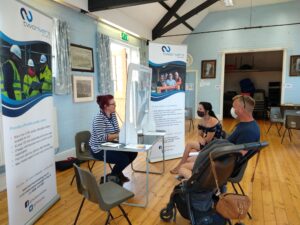 Jasmine Ellicott providing consultation on Shared Ownership